I just got back from a four-week jeeping vacation out West.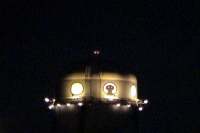 Ogallala NE has a state park with camping and a big lake, I called the park office and was told that we can camp anywhere! we can drive on any existing road (and there are a lot of them)! We can also drive anywhere on the Lakeshore! Since Nebraska had been in a drought for over three years, there was lots of Lakeshore to drive on. I immediately decided to spend a couple of days here exploring. The established campground was sandy and about 1000 feet from the Lakeshore in among some tall trees. There was also an access road leading down to the Lakeshore just begging for me to drive down, how could I resist.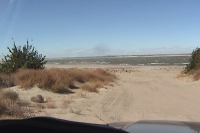 Halfway down to the shore there is a turnoff to the left, looks good to me, off I went the trail was among knee high prickle Brush,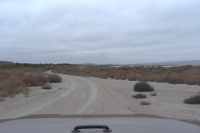 a different kind of prickle Bush than we get on the East Coast. I mean, the bush looked like all the stocks were lined with tiny medieval malls. The sandy trail eventually lead to a cove. The trail ended in 100 foot diameter Sandy spot where the jeep promptly got stuck! So I aired down, still stuck, OK, now I'll put the front drive shaft on (I had removed the front drive shaft to increase my pitiful gas mileage). This cove was not protected from the wind, so we headed back to the established campground.
The campground is protected on three sides by a 100 ft bluffs but open towards the lake. The campground has an outhouse, most of the picnic tables were stacked up on one end of the campground except for one that somebody had used to make a campfire that was out! (oh yes and a kiosk to pay for the campsite). Since the wind was coming over one of the bluffs we were in a fairly well sheltered area. But I know, if the wind changed direction it would be a rough night.
I used the jeep as a possible windbreak, setting the tent up behind the jeep. I started to make dinner, pan fried pork chops. No sooner had I started to eat dinner than the wind changed direction and blew off of the lake. By the time I had finished dinner the wind was blowing so hard that even though we were parked 1000 feet from the lake we were getting wet from the spray that the wind was driving up! And that Burnt picnic table I had mentioned, the wind had re-ignited it! So I got out my bucket and poured some water on it. Sue got some sand in her eye. We tried to wash it out with eye drops and then water but we were unsuccessful. Since we needed to go to medical facility to have it removed, it meant moving the jeep. The wind was so violent that I had to pack the tent up or it would surely be ripped to shreds. Now the jeep doesn't provide much of a windbreak so it was pretty interesting packing up the tent in the gale. After having the "Boulder" that we could hardly see removed from Sue's eye we got a hotel room in Downingtown Ogallala.
The next day we started to explore the area around the lake. Other than sandy trails and miles of prickle bushes and of course the lake there wasn't much to see here, so we decided to get an early start to Denver the next morning. About nine o'clock at night I had gone out to the jeep to get some things and saw a UFO (actually Ogallala's water tower).
From Ogallala NB to Denver CO is about a half day trip. This trip, from Boston to Denver has taken me one week, I usually do that trip in two days! We found a state campground, Boyd S.P. in Loveland CO that was still open, many campgrounds and parks were either closed or going to close in the next couple of weeks. This park was another great find. All but two of the camping loops were closed, but the two that were open were almost full. Again I was the only tent. Once you get out of the northeast most campgrounds are full of trailers and RVs. In fact, many of the private campgrounds won't allow tents!
Since we arrived on Friday I dug out my contact list for the mountaineer's 4X4 jeep club, hoping to connect up with them for a weekend run. The club was not going out but I got a phone number for somebody that might be, he wasn't, but he gave me the phone number for somebody else. They were going out on Sunday, they are going to do any hard trails, but the scenery should be really good. So I had a day and a half off no getting in the jeep and driving somewhere. On the way back from the grocery store we saw about 30 waterfowl in the edge of the lake, upon closer inspection, we saw that they were pelicans! What are pelicans doing in Colorado? I thought they were ocean birds?
Sunday I met Lesley and Tammy. I followed Lesley's jeep YJ with 2, 5 gallon gas cans on the spare tire rack and towing a small trailer with the Tammy's quad. They were going about 45 miles an hour. when I saw a red box flying up out of the back of her jeep and hit the street, it really got my attention at that point because I realized it was one of her gas cans! I swerved around it expecting to be engulfed in a fireball at any moment! It tumbled once then slid about 40 feet to the side of the road. We hung it back on the carrier only slightly the worse for wear, we continued on our way. We drove down to Missouri Gulch, where we met our trail leader Bob. We unloaded the Quad and started a trail ride at Pisgah Lake around 9600 ft. altitude. The trail was fairly dusty and pretty rough so I was glad I aired down to(10 PSI) to smooth out the ride. Most of the aspen trees had already gone past their peak, but some of them were still in their full yellow glory. Aspen trees don't just turn yellow they glow yellow.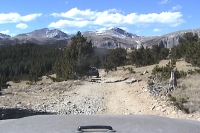 Out West, the national forests still have jeep roads in them, there maintained to a certain extent and have route numbers and some of the best scenery you'll find! They are also well-traveled. I saw probably 50 motorcycles, 20 4x4's and probably another 15 quads. There were several places were four-wheel drive was handy, mostly to use the low range, but we did find one road that was truly four-wheel-drive. I'm no geologists, I think much of the rock out here is also granite but it has a whole lot more traction than the rocks back East!
From one vantage point at around 10,500 ft we had a fantastic vista, not only were we surrounded by snowy Rocky Mountain peaks but we can see the planes of eastern Colorado!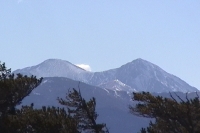 We moved on to the next Vista at 11,244 ft. from here we can see the peaks of two mountains Grays and Torreys they are exactly 1 mile apart.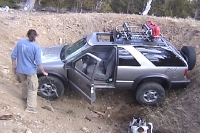 We ran across two couples in their un-modified SUVs, they appeared to be having a great time learning about off-road driving. We kept catching up to them when they were taking photo ops of their SUVs on a rock or crossed-up in a gully. I can tell that they hadn't aired down because as they went past us up a slight hill, they were kicking up dust and spitting out rocks. About 10 minutes later, Tammy came back and said that there was a SUV up ahead that need our help. Apparently the road went up a slight rise and turned left at the top of the rise but the driver couldn't see the road turn because he was still headed up the rise… so he went straight. He was very lucky, I know many places were a mistake like that will cost you your life! If you can't see where the road goes you stop!! We removed his spare tire, a little winching action and he was out and very fortunate that he had no damage. After that we headed back load the quad on its trailer, aired the jeeps up, checked the hold-down bolts on Leslie's gas cans and headed home. Not the toughest trails I've done, but certainly some of the best vistas!
Tomorrow I head to Moab! I think this is where I left you last time.