Day 45 Sunday Gallup NM
Temp last night -6.8 Degrees!!
Jim, a Local Jeeper said this is pretty much the norm for temps, nights are cold and days are cool, low 40's. I was surprised at how cold northern NM gets. Los Cruces was not this cold and its only 250 miles south of us, but it's 2,500 ft lower in altitude! Friday night the temp was 6.8 degrees in Reserve NM and that is only 150 miles north of Las Cruces but again it's 2,300 ft higher.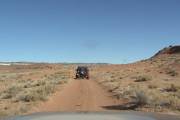 We met with Jim who took us on a local tour. He said during the winter he takes off his normal tires (35") and runs 31" tires (they don't trail ride in the winter up here, as their favorite place, Cibola Nat'l Forest is closed until April 1st.).
So off we went, we got to do some slick rock crawling, like in Moab! The trail took us to a sandstone cliff outcropping some 400 ft high with a 270 degree view. From here we could see the railroad tracks (a given) and Fort Wingate. Fort Wingate is where they shoot off 2 stage rockets towards White Sands or did shoot them off it's now decommissioned.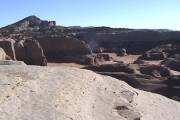 If you haven't been to a sandstone cliff you need to seek one out, the way the sandstone erodes makes for some graceful formations. The cliffs are rounded and stained from the water runoff, and striped, with different colored layers of sandstone. Water does such a good job of erosion that many of the cliffs are now outcroppings as the runoff has carved canyons into the cliffs. Sandstone comes in three main colors; cream, reddish and a deep redbrown color. The layers can be from 3 ft (as I saw in Montana to 1200 ft in Moab UT). As far as rocks go sandstone is soft (it's really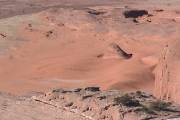 petrified sand dunes). The deep redbrown sandstone seems to be the softest. Wind, water and wind blown sand erode sandstone, when it erodes it returns to sand of various coarseness from beach sand to what is called "blow" sand as fine as talcum powder. So, often around sandstone, you find sand dunes. And we could also see some sand dunes below us. Jim said we will be playing in those in a little while.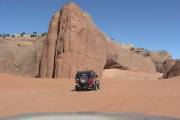 As we headed back down towards the sand dunes, Jim pointed out where someone had carved foot holes into the end of a sandstone outcropping. They had been carved out a very long time ago which obviously means Indian, could they be leftover from the Anasazi Indian?
Being from New England having some sand hills to play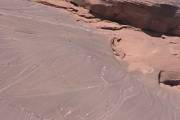 on was great fun. As we were going up and down the dunes Jim again pointed out some more footholds carved into the sandstone outcropping. In areas where the wind had blown away the lighter sand we could find pieces of Flint. Jim said they had found pottery shards and arrowheads in this area.
It seems that in New England, Massachusetts in particular doesn't want to share the beaches. Of the some 1000 miles of beach in Massachusetts there apparently isn't any sand dunes that the world ecology can do without.
We ate lunch at El Sombrero I don't know how authentic it is for Mexican food? But it did seem to be real food (read that as made on the premises as opposed to assembled there). Around 2:00 We parted company and headed west on I 40 to make our next meeting in Kingman AZ on Wednesday.
This part of I 40 runs through Indian country (Navaho Reservation) The land is quite barren and wide open, you can see mountains way off in the distance.
If you have a compatible Garman GPS you can upload he GPS track into it.
If you follow our track you will see that every time we come to a fence we make a 90 degree turn. We have it under good authority that crossing that fence may get you a visit from a very pretty young women riding a white stallion. A young women with a very big gun! It happens to be her property and she don't take kindly to strangers trespassing!
pi